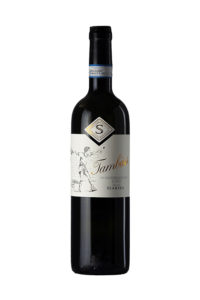 Slarina cultivation was almost abandoned in the second half of the last century because of its poor productive capacity. Only very small vineyards existed in the Tortonese and northern Asti areas. At the beginning of the 2000s, an important project for the preservation of biodiversity carried out by the Piedmont Region, which studied this and other old Piedmont vines in danger of extinction, made it possible to save some vines of this variety.
At the beginning of 2010, we began to search for old grape varieties with interesting and unique taste characteristics that would further represent the uniqueness of our territory.
After several researches and experiments, we became aware of the work of the Piedmont Region and identified two varieties that were very interesting to us: the red Slarina and the white Baratuciat.
Hence the decision to plant about one hectare of each of the two varieties.
Even today, we are constantly discovering the characteristics of these grapes and since there is no recent historical or production data, each harvest represents an experiment and a discovery of the characteristics of these wines.
A discovery that leads us to increasingly refine the cultivation, vinification and refinement techniques aimed at enhancing the characteristics of these grape varieties.
Further infos are available on the Piedmont Region web site.
History of the native grape project