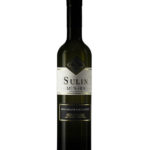 In 1984 Adriano Fracchia has created a unique product in Piemonte region starting from our vineyard : "Il Passito".
From a portion of Vigneto Adriano where we obtain the most sparse and mature grapes we harvest the Passito grapes. The selected bunch of grapes are dried on mats for two months, obtaining an output grapes/wine of 29%. It is fermentated in wooden barrels for two months and always refined in wooden barrels for two years.
At completion of the ageing in the oak barrels the Passito is bottled according to the traditional techniques typical of our Family. The Passito will now rest for minimum one year before being available on the market.
Vineyard: